Back to School Forms and Information
2023 - 2024
Pre Kindergarten - 12th Grade
OPEN HOUSE - August 31, 2023 - 4-6pm
All Families, PreK - 12th grade MUST complete the below enrollment updates and forms.
Please contact
attendance@isd698.org if you have any questions.
UNDER THE "ONLINE REGISTRATION" OPTION: (Click "More")
Update or confirm Emails, Address, Phone numbers, at least
2 Emergency contacts and family information.
Please be sure to update all of your students. If you do not
have a log in or need assistance with your account, please
email attendance@isd698.org and Faith can assist you.
Forms
Please complete all below google forms for the students
in your families. These all MUST be completed for
each student for the 2023-2024 school year.
Annual Health Update - 1 per student
Parent Compact & K-12 Family Handbook Agreement - 1 per household
K-12 Technology Compact & K-12 Electronic Device Program - 1 per household
Media Opt Out & Insurance Option Enrollment/Waiver - 1 per student
Religious Release - 1 per student (1st grade & older)
Digital Equity - 1 per student
** Pre K families ONLY need to complete the following above forms: Annual Health Update, Parent Compact & K-12 Family Handbook Agreement and Media Opt out & Insurance Option Enrollment/Waiver.
Educational Benefits Form
Please complete in Infinite Campus under the "Meal Benefits" tab.
The application helps the district qualify for compensatory revenue that can benefit every student in the district. Households that qualify will also qualify for reduced tech and band fees for their students.
Additional Forms Available
Over The Counter Medication Administration
Prescription Medication Administration
Refusal For Students To Participate in Statewide Assessments
Transportation Needs
If your student will be needing transportation please contact Tim Larson, 4.0 Transportation at tlarson@fourpointo.com or the bus garage at 218-476-2211.
Information on School Meals for 2023-2024
All students will receive breakfast and lunch free of charge for the 2023-2024 school year.

Students will have a milk or second meal account. The account must have sufficient funds for students to purchase milk or second meal purchases. A student who does not have sufficient funds will not be allowed to charge milk or a second meal until funds have been deposited into the students account.

Ala carte items may be purchased on a cash only basis.
Important Information
2023-2024 K-12 and Pre K Calendar
2023-2024 Elementary School Supply List
2023-2024 High School Supply List
Pick up/Drop Off and Bus Loading Map
School Picture Information
Floodwood School District will be using Jostens for the 2023-2024 school year. Information will be put out as it is available.
Tech Fees
All Kindergarten through 12th grade students MUST pay the $25 tech fee. Payments can be made on the Infinite Campus Parent Portal, at the fees table during Open House or in the school office prior to the first day of school.
Shop Fees
7th and 8th Grade students need to pay $35 shop fee for Industrial Arts classes.
Sports, Tech, Shop, Band and lunch payments can all be made on your Infinite Campus account. Paying fees via credit card on Infinite Campus does have and additional $1.25 per transaction.
Student Assurance Services offers additional accident insurance for students enrolled in the Floodwood School.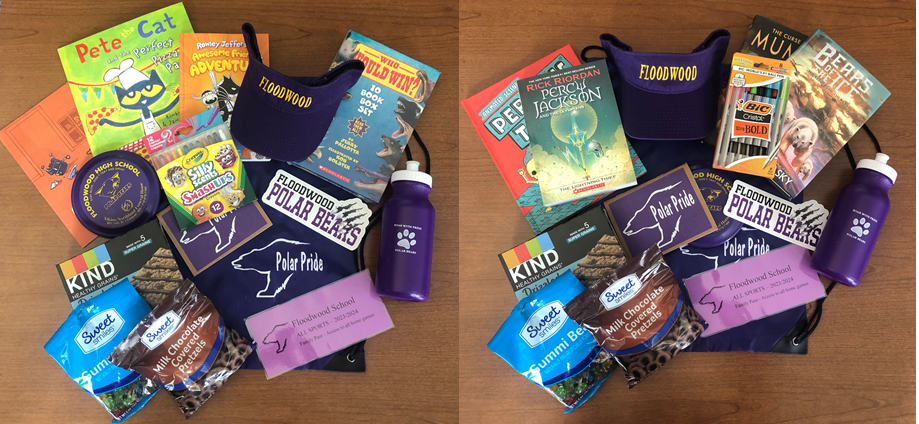 All families who complete their online enrollment and forms, including the Educational Benefits form between August 14th and August 25th will be entered in a drawing for a Floodwood Gift bag. There will be a drawing for Pre K - 6th Grade and 7th Grade - 12th Grade. The gift bags include a 2023-2024 All Sports Family pass (valued at $180), a selection of books from the best of Scholastic, Floodwood gear and more!