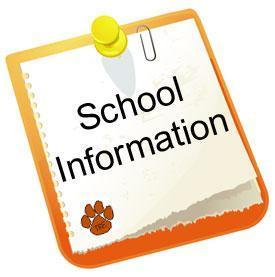 Letter from the Superintendent/Principal
Jaimen Davis
Friday, October 04, 2019
October 1, 2019
The first month of school has gone by so quickly! Homecoming was a huge success. Both the elementary and high school were involved in the activities planned by the Student Council. Mr. Root and Ms. Stupke are doing a nice job of helping the Student Council to plan and organize, as well as bring fresh ideas to the group.
This week we kicked off our new STEAM initiative with activities sponsored by the Saint Scholastica Talent Search Program. After consideration, we added Art to STEM. We wanted to be sure the students had access to Science, Technology, Engineering, Art, and Math activities. The elementary will have STEAM activities on Friday's and the high school will have their activities on Wednesday's. The students will be on a three week rotation of the same activity. The elementary will be assigned an activity, but the high school will get to choose their activity. We are planning on having elementary choose their activity later in the year. The fourth week will consist of reorganizing and planning. We are excited to bring these fun, hands-on learning activities to the students.
To continue building school pride, we encourage students and staff to wear Floodwood gear every Friday or the last day of school for the week. If they don't have Floodwood gear, they can wear purple and/or gold. We will be ordering t-shirts for the students soon. Please watch for the order form.
Mr. Rohde is no longer on the school board as he is now our Industrial Arts teacher. The school board is looking to fill the vacancy. If you are interested in being on the school board, please go to the school's website for more information. I am available to answer questions you might have about what a school board member does or how much time is involved in being a school board member.
We are already at the mid-quarter of first quarter. If you don't have access to Infinite Campus, please contact Lois to help you get set up. Infinite Campus is a great way to keep up to date on your child's grades and attendance. You can make it so you get notices as soon as grades and attendance are updated by the teacher.
Mr. Root has the band registered to be in the Christmas of the North Parade on November 22nd. He has decided to make a drumline rather than a full band. The students have begun practicing and I am excited to see them perform. As with each of other band teachers, Mr. Root is bringing a new flair to the band program. The students are embracing the changes and it is wonderful to see and hear.
Sincerely,
Dr. Rae Villebrun
Superintendent/Principal
Floodwood School: Preparing all students to succeed.