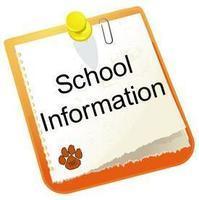 Letter from Superintendent/Principal Rae Villebrun
Lois Persons
Wednesday, May 13, 2020
Dear Families,
We have almost four weeks of school left in the school year. The last day of school is June 2nd.
The staff is planning a Tech Device Collection Day for the elementary and the high school. The elementary Collection Day is Wednesday, May 20th. The high school Collection Day is Thursday, May 21st. The teachers will be here to help with the collection of devices and to wave to the students. A more detailed plan will be shared next week.
Paper/Pencil activities will be sent home on the Collection Day. Teachers will be available to connect with students through personal home devices or by telephone. Paper/Pencil activities will be collected by dropping them off at school in the Homework Bin by the front South Doors, by taking a picture and emailing them to the teacher, or by sending them back to school with the van drivers who deliver meals.
Childcare will continue to be an option until June 2nd. Meals will continue to be delivered until June 30th.
If your child has a band instrument that is rented from the school, please return the instrument on Collection Day. Mr. Root will be in contact with your child regarding the instrument.
We will be celebrating the achievement of our 2020 graduates through a virtual graduation ceremony on May 29th. We also plan to have a parade, but are still working on the details.
The High School Academic Award Ceremony will be shared through YouTube videos on Friday, May 15th. Information will be shared through Instant Alert and Social Media so you will know how to access the videos.
Thank you to those who completed the Distance Learning Survey! From the results, it seems like the majority of families are happy with how things are and that we are all trying to get through this together. If something is not going well, please be sure to reach out to me or your child's teacher for support.
Sincerely,
Dr. Rae Villebrun
rvillebrun@isd698.org
Floodwood School: Preparing all students to succeed.