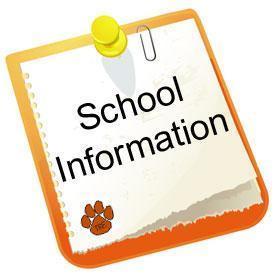 Letter from Superintendent/Principal *SEE CORRECTION IN BOLD
Lois Persons
Monday, January 07, 2019
Happy New Year! The first of the new year started with such beautiful weather. If only the temperatures would have stayed that way! However, we know that is not be the case. The elementary students will be going outside for recess as long as the temperature doesn't fall below -10 degrees with or without the wind chill. Please be sure to send your child with all their winter gear so when they are outside, it is enjoyable. Notification of school closings or late starts will come through the Infinite Campus messenger system, posted on the school website as well as on Facebook, and broadcasted on local radio and television stations. If we have a late start, preschool will not be in session.
In a couple of weeks our 2nd quarter will come to an end. If you have access to the Parent Portal on Infinite Campus, check to see if your child has any missing assignments. We want the students to end the quarter on a good note. On FEBRUARY 4th we will be having a school-wide celebration in honor of our Minnesota School of Excellence validation. Stay tuned for more details. A grand celebration is in the works!
A Working Session for the School Board was held on Wednesday, January 2nd. The topic for the working session was to discuss the upcoming vote to move forward with asking the voters to support an operating referendum in April. The meeting was almost three hours and was filled with discussion between many community members and the school board. From the meeting, I have been given the task to answer the questions brought forward by the community. I will have the questions answered next week and will make the responses public. As always, if you have questions about what is happening at the school, please ask. Communication is something I am continually striving to improve. It is important to us that you ask for clarification if needed.
Today's School Board meeting will welcome our new school board member, Tracy Hutchinson. I look forward to working with her and appreciate the knowledge and skills she will bring to the Floodwood School.
In an effort to keep the community informed, I will make a point to share the roles of different staff members. Mrs. Amanda Fjeld wears many different hats. She teaches math to our 7th and 8th grade students. She also works as an instructional coach to our teachers. She has had intensive training through cognitive coaching to serve in this position. An instructional coach supports teachers in their effort to improve their teaching practices and helps align all teaching practices for productive and smooth transition from grade to grade. You may think this particular role is the same role of what a principal has. However, there is a big difference. The support Mrs. Fjeld provides is more intensive and allows for continuous communication of ideas on how to improve. It is all based on the training for best practices. She is there to offer support, find resources, and answer their questions. As the principal, I also feel I am offering support when I do observations, but it is not to the level of support that teachers need to make such improvements as they have made. I credit this method as having a positive effect on the improved state testing results. Four years ago our test scores were quite low. Now we are right up there with the neighboring schools or even higher.
Mrs. Fjeld is also an integral part of our Early Childhood team. We applied for and received a Classroom Engagement Model grant through the Minnesota Department of Education. As a requirement of the grant we had to designate a staff person to coach the early childhood teachers. To ensure the best support possible, Mrs. Fjeld attends all the CEM training with the early childhood teachers. Mrs. Fjeld is also part of the district's Leadership Team. Her and the other team members develop training, complete observations of their colleagues, and assist in setting goals for the continued improvement. Her day is filled with teaching students and supporting teachers.
With each letter, I will highlight staff members and the important role they play in the success of the students, the school, and the community.
If you have any questions, please call me at the school office or my personal cell: 701-278-1599.
Sincerely,
Dr. Rae Villebrun
Superintendent/Principal
Floodwood School: Preparing all students to succeed.